Importing GPL/N4 skies
| | |
| --- | --- |
| Beefing up your skies (click picture to enlarge). | |
This tutorial describes how I got a sky from Grand Prix Legends to work in Racer. Notice that before doing this, you should get a copy of Nascar4 and Grand Prix Legends (they're standard software almost I think for most Racer users, so you probably already have those, right?).
Things you will need before advancing:
WinMip, to convert N4/GPL's .mip image files to .bmp.
Racer v0.5.x (or an alpha or beta release) probably. The sky models took some extra work.
You can get some sky photos at for example FreeStockPhotos.com.
Previously, there was a site (from Simon Stoddard) which contained GPL type skies (Grand Prix Legends). I haven't found the site since the beginning of 2006. The next text assumes a GPL type sky still though. Principles still apply; you'll need to convert the images to one of the formats supported by Racer (Targa/BMP/JPEG). Perhaps some of these zipped skies are still available. The old text follows...
After unzipping the sky zip file, you will notice a lot of .mip files (images), and a .3do file (probably horiz.3do). That last one is a sky model, which is drawn quite unlike most models are stored today, so it doesn't really import into a gracious form, but it's usable.
With WinZip, select 'GPL' and convert every .mip into the corresponding .bmp file (i.e. horiz11.mip -> horiz11.bmp).
With my version, it seems you have to click & convert each .mip on its own (there's no batch convert). But it's worth the effort.
You must now import the .3do model for use in Racer. Run Racer's Modeler and click the button 'Import 3DO'. Then select the file that came in the zip. Hopefully it will just work like that; the 3DO format is still not one that is imported in a nice way.
After you've had success loading it in, export it to your track directory, named 'horiz.dof' for example. Also copy or move all the .bmp files from step 2 into the same directory. To test if it's working a bit, try importing the DOF from the track directory. If all the image files are there, Modeler should display the textures as well. It still looks crummy, with lighting and all that, but that's ok; in TrackEd, you can declare it a sky and it will render without lighting.

(note: the red triangle is just the currently selected material)
You probably already have a horizon in the track. Search <trackdir>/geometry.ini for sky.dof, or something alike. Replace the .dof filename with the sky DOF you just created in step 3. Make sure to set 'flags=73', as this is the magic value for the special handling of the sky.
Now run TrackEd and open the track. Hopefully it looks something like this: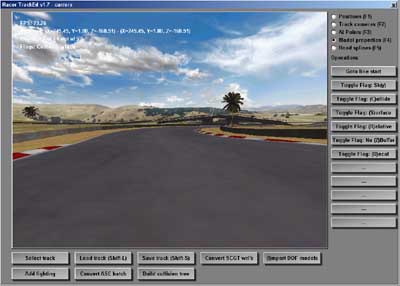 Things should work now in Racer too. Notice you may be missing a ground polygon, which you could separately make in Max/Blender/ZModeler/Maya.
Good luck!
(last updated November 13, 2012 )