Racer beta downloads
| | |
| --- | --- |
| Racer's beta versions to get to the next full version. | |
After 3 years of Mac silence, it's time to get things going again. This version was compiled & tested on a Mac Mini, Intel, OSX 10.5.2. Probably the near future will just see 10.4 executables; the 10.5 compiled version doesn't appear to run on OSX 10.4.
Download the v0.5.4.3 bundle (24Mb).
Uncompress the file.
Double-click the bundle file and open the disk image.
Double-click on the Racer icon to start.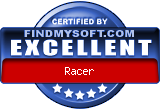 Known problems:
- PowerPPC Mac's will be probably not be able to compete in multiplayer races with Intel-based Racer's (Windows/Linux/IntelMac). This is due to litte- vs big-endian processor issues.
This beta download is quite old by now and works quite a bit less than the later versions.
(last updated December 30, 2014 )